Posted: Sunday, December 3, 2017 3:08 PM
---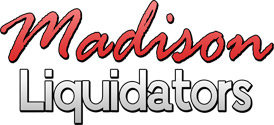 Madison Liquidators
2224 Pleasant View Rd. Suite 10
Middleton, WI 53562



Call To Order




(608) 831-1012
Conference Table and Chair Sets
We have a great selection of affordable conference table and chair sets that not only provide high end commercial quality construction but have attractive designs that will make a great impression on clients who frequent your business. We ship these tables throughout the lower 48 states and can have them delivered to your door in as little as 3-5 business days!
Many conference tables we sell can have connectivity boxes or conference table power outlets installed seamlessly into precut grommets. If you are unsure as to what size conference table you need you can consult check our website for the best conference table dimensions for your room.
To go with your table a set of conference room chairs that have a modern look and comfortable seating can give your boardroom the perfect finishing touch. The table and chairs are backed with a manufacturer's warranty and are high quality and built to last in commercial and business settings.
We welcome you to give us a call at (608) 831-1012 and let us know how we can help or further consult our website to help you locate the perfect conference table.
To learn more about our conference tables we welcome you to visit:
https://madisonliquidators.com/conference-tables/
• Location: Appleton / Oshkosh / FDL, Eau Claire, Green Bay, Janesville, Kenosha / Racine, La Crosse, Madison, Middleton, Wisconsin, Milwaukee, Sheboygan, Wausau

• Post ID: 22854673 lacrosse
Play it safe. Avoid Scammers.
Most of the time, transactions outside of your local area involving money orders, cashier checks, wire transfers or shipping (especially overseas shipping) are scams or frauds.
Report all scam attempts to abuse@backpage.com.